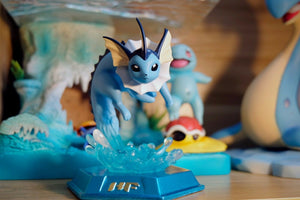 Latest Pokémon Action Figures and Accessories
of reading - words
Whether you're playing Pokémon video game or engaged in a fist fight with Pokémon toys action figures or cards, the goal is simple. The one who collects more Pokémon cards or action figures, wins the game. These Pokémon battle action figures collection includes most of your favorite Pokémon's from the anime series. As the Pokémon franchise grows big, so grows the Pokémon toys collection from imprinted plushes of your favorite Pokémon to School Bags. The toy store holds best Pokémon accessories, and you can build a whole army of your little monsters ready to fight the battle.
Get Your Favorite Pok
émon Action Figures with Trainers
You can get a solo Pokémon battle figure of your favorite little creature. The toys action figure also come with trainers like Jessie and Wobbuffet or James with Meowth. These action figures are no less than an obsession, and missing on a Pokémon toy store that offers an incredible range of accessories and toys would be the last thing you want. You can bring about a perfect balance to your collection of Pokémon's with Fire and Water abilities.
The Pokémon toys and accessories are real treat to Pokémon lovers and it's surely going to stir up your interest. Besides that fact that adults still like to build their Pokémon collection bigger and wide, children also love to see their favorite Charmander turning into Charmeleon. You can get your hands on some of the new arrival Pokémon figures from the store. Misty and Psyduck is 4.4 inches figure and it comes in 2 colors with the little Togepi held by Misty. This can be the best addition to your Pokémon collections with water based abilities.
---